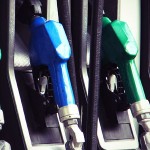 These days, it doesn't matter whether you drive a small little hybrid or a gas guzzling SUV, we all want to find ways of saving money of gasoline, and getting as much distance for the gallon as we can. With gas prices consistently on the rise, miles per gallon have become quite a talking point
for car companies and enthusiasts. The following tips should assist in saving money, improving fuel economy, and alleviate the blow high gas prices may have on your bank account. These pointers are simply ways to improve your vehicle's MPG, and if you execute them properly, you can really save on gasoline over the long term!
1. Drive Slowly
A great way to enhance fuel efficiency is by reducing speed and acceleration. As the speed of your vehicle increases, fuel economy decreases at an exponential rate. So basically, if you're a perpetual violator of speeding regulations, you may just be doing yourself quite the disservice as well. Try obeying the posted limits, it will not take you too much longer, and you'll be saving money in the long run.
2. Check for tire pressure
If your tires are simply under-inflated, you'll find that your miles per gallon with surely suffer. Most tires will naturally lose air over time, and temperature changes cause deflation as well. But the problem is that under-inflated tires carry more rolling resistance, and thus require more gasoline to keep it in motion. Try purchasing a more reliable tire gauge and check tires at least once monthly, monitoring their status in the cold. Make sure to review the owner's manual for further information about specific tire pressure data unique to your vehicle. Continue reading →