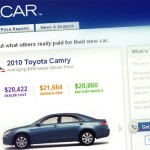 When you're looking to purchase a car it can be sometimes difficult to figure out what price to settle for.
In fact, if it's your first time buying a new car it can be really daunting to know what to offer the new car dealer.
If you offer the wrong amount, you can not get taken seriously, or even worse totally ripped off. In trying to find you the best car buying tips possible, we went out to try and find some information on other car buyers and what they've paid for their new rides.
In comes TrueCar.com.
This little site will tell you what others have paid for the new car that you are looking into buying. Continue reading →