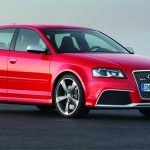 Each of the Audi RS models is special in its own kind of way in every aspect and specifications. The 2011 RS3 has a dynamic philosophy in this compact category. This new version is improved in its performance and power.
The car can rocket from 0 to 62.14 mph or 100 km/h in about four and a half seconds with a top speed of 155.34 mph or 250 km/h. The car is compact and weighs about 3,472.28 or 1,575 kilograms and the fuel consumption is an amazing 26 mpg and the emission of carbon dioxide is at 341.18 g/mile or 212 g CO2/km. All this is possible by the technology used in the regenerative system, which is meant to recover some energy during the car's decelerations.
The RS3′s Engine
The 2011 Audi RS3 has a 2.5-liter engine that will surely thrill the passengers because it has a strong pulling power and the 6,800-rpm. The Audi engine's growling  and roaring soundtrack combined with the signature 5-cylinder firing order creates a strength feeling in the car and gives the driver gobs of power on the road. There is a flap in the exhaust system that is controlled by the sport button, also used in varying engine response, and is used to further intensify the sound.
The 5-cylinder engines have a history in Audi. It was used to edge out the existing competition in race cars in the 80s. The first RS model, 94, had one of these engine types. The engine now is redefined and has earned the top position in engines ranked by a panel of automotive journalists. This means that the engine is created to have high performance and the general parameters used in it will yield great elasticity and excellent acceleration values.
At just about 403 pounds and 19.29 inches the Audi RS3′s 5-cylinder unit is super compact. The vermicular-graphite cast iron use in making the crankcase is a light weight but strong material that contributes a lot in the overall light weight of the unit. In fact, this material has been used in gasoline engines for the first time by Audi. The block loadability is further enhanced by the reinforcement's which are perfectly placed. The light weight design is meant to keep the weight of the Audi RS3 in check so that it can pay off when it comes to axle load distribution which translates to an excellent and ultimate car handling.
Continue reading →