If you're looking for an emergency power source in case you need to jump start your car, or if you're just looking for a power source to boost cars that may have stalled at your car show or event then you'll probably be looking at a Jump Starter.
Basically they are a high amp battery attached to two heavy duty jumper cables. The same principles apply as when you need to jump start your car, but the advantage is that you do not need another vehicle.
You can keep your jump starter plugged in at home to ensure that it stays fully charged, or in your trunk for emergencies.
Jump starters come in all shapes and sizes, but a general rule is the bigger your car, the bigger your jump starter needs to be. You don't want to be stuck out in nasty weather with a jump starter that doesn't have the juice to boost your car.
The power of each jump starter is measured in amps. This number will vary but for a V8 car you should be looking for at least 500 amps.
Some of the jump starters on the market come with built in lights. These are handy when you're stuck with a dead battery at night and allow you to easily see what you're doing as you hook up the power source (we also recommend always having a flashlight in your car).
We've come up with the Top 3 jump starters on the market for you to check out. By no means are these the ONLY good jump starters out there, but they are the most reliable and easy to use.
You can check out a full list of what Amazon.com has to offer here.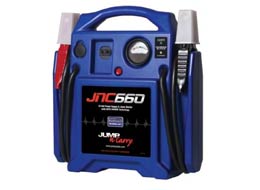 Clore Automotive JNC660 1700 Peak amp 12-Volt Jump Starter
1700 Peak Amps
425 Cranking Amps
Clore PROFORMER battery technology
46″ #4 AWG welding cable leads
Industrial-grade clamps
Built-in charger
Automatic charging
Voltmeter provides charge status of onboard battery
12VDC outlet to power accessories
1 year limited warranty
Automatic charging eliminates the need to unplug or replug. Plus it ensures that you'll never be stuck with an uncharged jump starter.
Cartips.com Rating: 9.8/10
Check It Out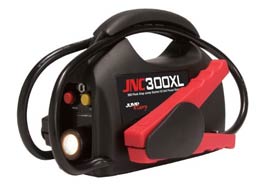 Jump-N-Carry JNC300XL 900 Peak Amp Ultraportable 12-Volt Jump Starter
900 Peak Amps
225 Cranking Amps
27″ #4 AWG welding cable leads
Full-size clamps to penetrate battery corrosion
LED battery status indicator
High intensity work light
Grip-Lock clamp storage
DC outlet to power 12 Volt accessories
Includes wall charger and Male-Male 12V extension cord
1 year limited warranty
A smaller profile and the built in light are a definite plus. Not as much juice as the JNC660 so it may not jump cars in more extreme situations. If you have a V8 vehicle I'd recommend the JNC660.
Cartips.com Rating: 9.6/10
Check It Out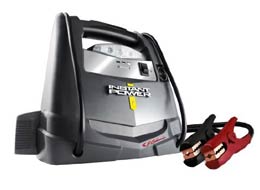 Schumacher XP400 Instant Portable Power Source
On/Off switch activates the jump starting mode
Built-in charger for automatic charging of internal battery
Battery status LEDs tells when battery is charged or needs to be charged
Sure-Grip clamps fit both top and side-mount batteries
A maintenance-free, sealed lead acid battery allow for storage in any position
Low cost and small size make for a perfect jump starter for small cars. If you live in a cold location or have a medium to full sized car I would recommend something with more power. If you have a smaller 4 cylinder vehicle this is a perfect emergency solution.
Cartips.com Rating: 8.7/10
Check It Out
Had an experience with a jump starter? Let us know in the comments below.