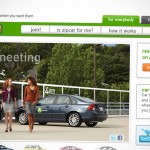 Join Zipcar and get $25 in free driving!Zipcar is one of the largest "car club" or "car sharing" style rental agencies in the world.
Essentially if Zipcar is in your neighborhood (like it is here in Vancouver) then Zipcar will have cars that you can "rent" spread out all over town in sometimes convenient (and other times not so) places.
You sign up online, and they give you a "Zipcard". This card is used to access the cars that are on the street and keeps track of how long you've used the car. But what if someone else wants to use the car too? Well of course you have to reserve the car for the time that you want to use it. But this couldn't be easier. You can either reserve the car through an app on your iPhone (I don't have one so I didn't get to use this feature) online at home, or through their phone reservation service.
Each of the cars has a funky name that I guess is supposed to add fun to the whole experience, and once you've reserved your car you can literally just walk up to it and scan your card to gain entry. The keys are always in the vehicle and once you're in you just go.
I've had the chance to use Zipcar off and on now for about 2 years and I can say that I definitely like the service. The cars are clean, reliable, and most of the models are pretty decent cars. I preferred to rent the Mini Cooper when I could and they even have a convertible option in Vancouver… which I'm sure is not so popular for 9 months out of the year. Continue reading →