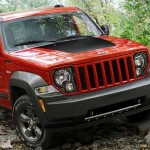 SUV enthusiasts can now be treated to the brand new and improved Jeep Liberty; the 2011 model. This is a comfortable 4-door 5-seat machine with high performance features. Built in the US, the jeep liberty comes in three trims, the sport, Renegade and limited, with each trim portraying its own special features.
The jeep brand was established in 2002 and has ever since dominated the mid-sized SUV world. There have been improvements along the way, which has brought us to the new 2011 Jeep Liberty.
Scope
The 2011 Jeep Liberty is a 176.9 inch long and 72.4 inches wide vehicle with a 106.1 inch wheel base. It has a curb weight of 3985 lbs with the gross weight reaching 5600 lbs. The luggage capacity is 31.5 cu. Ft. and a maximum cargo capacity of 64 cu. ft. The maximum seating comfortable seating capacity is five.
Performance
Beneath the hood of the 2011 Jeep Liberty is a V6, 3.7 liter engine with 6 cylinders and a 210 Horsepower. The engine has a maximum rpm of 5200 and a 235 ft-lbs torque. The maximum payload that the jeep can handle without strain is 1150 lbs and a towing max capacity of 3500 lbs. Continue reading →