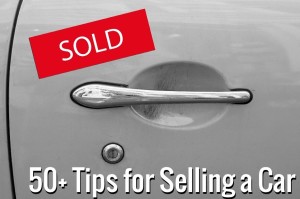 Drumroll, please! Here's the cheat sheet, the Cliff's Notes and the quick tips on things to do to help sell your car/truck/vehicle.
Selling a car might seem easy but if you want to get the most money for it, make sure the car is at its best. Think about what used car dealers do to sell their cars. You're competing with them and since you're playing the same game, you need to be in their league.
Putting in just a bit of time and a little money, you'll get that amount back and more. It's really smart to prepare your car well. People are trying to imagine themselves in the car when they come to see it, so do your best to make that car look like something they want to buy.
When it comes to selling, you want to provide good service. Be available and look presentable when people come. Respect their time and thank them for coming out to look at your vehicle.
Ok, on with the list…
Bookmark this page and share it with others!
Selling Your Car Checklist
Not in any particular order:
Wash and detail clean your car – inside and out.
Get all of your personal belonging out of the car.
Do an oil change.
Replace the air filter.
Check the fluid levels.
Inflate the tires properly.
Fix minor problems to the interior.
Buy new floor mats.
Steam clean the upholstery and carpets.
Buy an air freshener.
Touch up paint.
Clean your headlights so they're not foggy anymore.
Clean the trunk.
Wipe down parts under the hood.
Clean the windows – inside and out.
Remove all bumper stickers and window stickers.
Wax and shine your car.
Have a complete inspection done by a mechanic.
Make sure the car is safe – tires and brakes should be good.
Make sure the title is clean and in your name.
Advertise it in as many places as possible – online and offline.
Consider donating the car to charity.
Shine the tires and wheels.
Don't let people test drive the car alone – go with them.
Get a copy (or take a picture with your phone) of the driver's license of anyone who comes and wants a test drive.
Order a vehicle history report (CARFAX, etc.)
Print up a sell sheet for your car to hand out.
Make a one-page website for your car to help with online advertising.
Promote your car on Facebook and Twitter.
If you were the only owner, mention that when people come to see it.
When people come, casually mention that you've been getting lots of calls (if you have been).
Set an attractive sell price.
Get any annoying things fixed.
Post a "For Sale" sign on the car with a phone number and price.
Screen people by phone first before they come over.
Look presentable when people come to see the vehicle.
Don't give an answer to the question, "What is the lowest amount you will take?"
Remember to cancel your insurance after you sell the car.
Get all your car's maintenance records together and show that folder to people.
Post nice ads with great pictures of the vehicle.
Do research and know the value of your car. See what similar cars in your area are going for.
Don't rush people who come to see it.
Don't back out of a deal on just $50 if you have no other interested buyers.
Under promise and over deliver.
Get to know your buyers a little – ask where they are from, what they do, etc. Try to connect with them a little if you can.
Don't show the car at night when it's dark or in the rain or snow.
Mention all the features of the car in your ads.
Mention recent repairs in your ad.
Smile!
List your car on Saturdays, Sundays and Mondays. Be available those times.
Only take cash for payment.
Make sure a deposit holds the car for 24-48 hours or less – no more than that.
Make sure the stereo if off so that it doesn't turn on when people get in to test drive it.
Watch out for Craig's List scams.
Respond to all calls you get – return phone calls promptly.
Print this list and then cross off items as you complete them. Doing this will help ensure you have a car sale that goes smoothly and one that gets you the most money for your vehicle.
Some Video Help and Advice
Here's a good video on how to sell your car privately yourself:
If we missed anything, please mention it below… and again, please share this article.