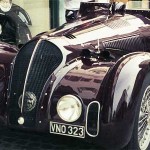 We've all been there—new car with a fresh fragrance, slick paint, and flawless tires. The buying of an insurance policy is the natural next step, and it at times can become tricky or frustrating to pursue. But what about cars that are slightly different? What if your car's paint isn't fresh and new, but rather time tested and long lasting? What if your car doesn't have a new car smell, but rather a nostalgic and brilliant scent that in itself embodies decades of time?
Just because a car isn't new doesn't mean a car isn't expensive. And this extends to insurance policies. An antique or vintage vehicle may have even more value than many brand new models, and the insurance costs and options are often quite reflective of this fact.
Finding and selecting the best antique, classic or vintage car insurance to satisfy your needs is vital to safeguarding and providing protection for a very important investment. These vehicles, being special by nature, have an array of unique accommodations and areas to consider.
So whether or not you're familiar with insurance or not, there is no harm in reading up on the specifics of vintage car insurance. Below we'll list just a few helpful instructions to assure you make the wisest possible decision pertaining to your vintage vehicle insurance policy.
1. Make Use of some Insurance Policy Restrictions
One important thing to consider is how your vintage car insurance policy covers you, and how it compares it your actual use of the vintage vehicle in question. The more you do with your ride, the more coverage you're going to need. The inverse is true as well.
If the use is minimal, primarily to and from local community events and vintage car showcases, employ a policy that restricts to those particular uses. This will prove satisfactory for your limited usage and plenty more affordable.
On the other hand, if you are tad more willing to take the car out on the town, run errands, or even drive rather long distances, you'll need to choose a policy that accommodates for this xxtensive use. Needless to say, a vintage car policy will not need to cover everyday use through all four seasons, but with more frequent use, a less restricted policy will definitely need to be selected. Consult an insurance agent for more information on specific policy restrictions.
Continue reading →