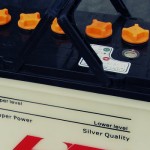 We've all been there… you left your headlights on, or the interior light on and your car battery is dead.
The two biggest causes of car batteries failing is either leaving your lights on or alternator failure. One of these will probably happen to you at some point in your life.
So you have to know how to jump start a car safely and properly, so that when/if you ever do run into a dead battery in your car you can get back on the road quickly. You don't always want to have to call out your car breakdown cover, particularly when it is something you can do yourself. Continue reading to find out how!
Preparing your vehicle to jump start a car:
First, you're going to need a set of jumper cables. They are pretty common, so even if you don't have a set you should be able to find someone who does. They aren't expensive, so it's actually a good idea to pick some up just in case anyways.
Move both cars so that the batteries are close to each other. If you don't know where your battery is then pop the hood. Make sure that both vehicles are off, and have the parking brake on… you don't want any accidents. Continue reading →