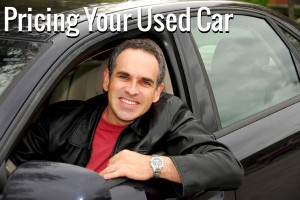 You've decided to put your car up for sale. One of the first things to do is to figure out how much you can sell it for. This will require doing some research (which is easy) and it'll help you determine if your car is worth selling or holding onto – or possibly donating to charity.
Pricing Your Car or Truck
You have to price your vehicle so that it will sell. If it's priced too high, you won't have many interested buyers. If it's priced too low, then you've missed out on some money you could have made. People might think their car is worth more than it really is and end up pricing it too high. One way to test this is start with a higher price and see if there are any takers. The downside is that people might be watching what you're selling the car for and know that you had to reduce the price if they've seen your car for sale a while.
The best thing to do is some simple research. You'll find out what the market price is and what you should try to sell it for.
Step 1: Gather Up Information About Your Vehicle
This might sound simple and like something you don't need to do but if you skip this step, it could cost you hundreds or thousands.
Here is the information you should collect – write it down or write it up in a Word document (which is what I would suggest since you will use this information later for creating ads):
Vehicle Make (example: Ford)
Vehicle Model (example: Focus)
Year (example: 2009)
Trim Type / Style (example: sedan, coupe, hatchback, convertible)
Options
Mileage
Color (interior and exterior)
Transmission Type (example: manual or automatic)
Engine Size (example: 4 cylinder, 2.0 liter)
Drive Train (example: front wheel, rear wheel, all wheel, 4 wheel drive)
Condition
VIN Number
Remainder of Factory Warranty
Fuel Type (gasoline, diesel, hybrid, electric)
Vehicle Options
This is important. When the car was purchased, it might not have been all stock – meaning, it might have had some upgrades right off the factory floor. You or another previous owner might have had some upgrades done as well. Even if your car does just have the stock options, it's good to list those.
Here are some options you should list:
air conditioning / multi-zone air conditioning
stereo / CD / MP3 / cassette / satellite
entertainment system (DVD and video screens)
sunroof / mooonroof
cruise control
fog lights
air bags
power windows
power locks
keyless entry
power mirrors
intermittent wipers / rain sensing wipers
read window wiper
automatic climate control
heater mirrors
security system
tinted windows
leather seats
factory GPS / navigation
power seats / memory seats
heated seats
heated steering wheel
rear window defroster
dual / performance exhaust
auto-dimming rear view mirror
alloy wheels
xenon lights (high intensity lights)
auto headlights on/off
delay off headlights
daytime running lights
bluetooth connectivity
fold down seats
reclining seats / passenger adjustable seats
anti-lock brakes
rear camera
traction control
coin holder
vanity mirrors
child safety locks
3-point rear seatbelts
beverage holders
power outlets
outside temperature gauge
compass
remote start
low pressure tire warning
touch screen display
rear spoiler
reading lights
emergency communication system
leather shift knob
illuminated entry
garage door tranmitter
sunglasses storage
occupant sensing airbag
door storage bins
pedal memory
roof rack
towing hitch
run flat tires
split folding rear seats
steering wheel mounted audio controls
tilt steering wheel
trip computer
push button start
panic alarm
overhead console
I've listed about all the possible options possible so that you can make sure you're listed all that pertain to your vehicle in your ad. These options will help determine the price as well, so don't forget any.
If you have the original window sticker, that will help, too.
Make sure to list any aftermarket upgrades you've done like the stereo or wheels.
Condition
Figure out what condition your vehicle is in. Here is where you might want to consider either finding missing parts, replacing seats, floor mats (a cheap fix) as well as fixing any mechanical issues.
Cars with good tires and brakes always command a higher price. If your car needs this work, consider getting it done as you'll fetch more for the vehicle and that increase in price will (should) cover the money you invest in the vehicle. Plus, it takes these things out of the equation so that they can't be negotiated on later – in fact, you can use them to your advantage and justify the price you're asking.
People want a safe car, so do make sure the brakes, tires and steering are in good to great (new) condition.
Step 2: Do Some Research
Next, now that you have all your information together, you can look up what a fair price is for your vehicle. You'll do this on some websites:
Kelly Blue Book (kbb.com) – Get an estimate on what your car is worth if you plan to sell it yourself. Enter the year, make and model of your car along with the current mileage. You will be asked for your ZIP code as well so that the price is for your area.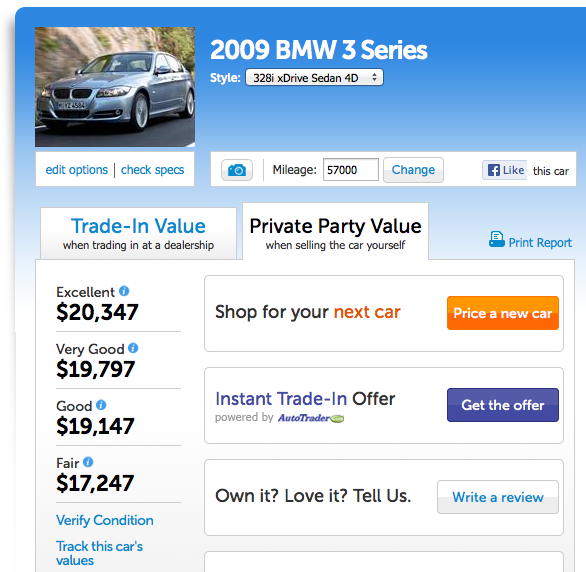 You will get the values listed for your car in excellent, very good, good and fair conditions.
NADA Guides (nadaguides.com) – This website works about the same way. You'll enter your ZIP code, then the make, year and model.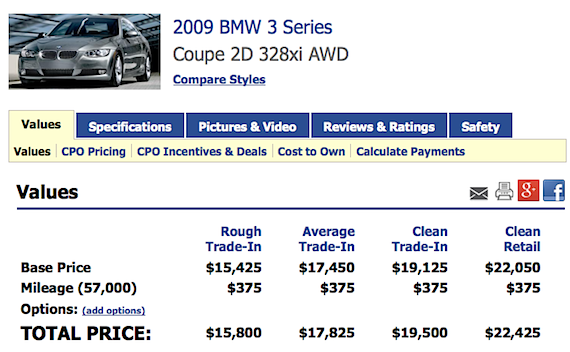 With this website, you'll also get values for the car in different conditions: clean retail, clean trade-in, average trade-in, rough trade-in.
Step 3: Compare and Set a Price
Take the two estimates that you have and you should have a good idea of what your car should sell for. You'll want to add in a little more for any upgrades you've done, any recent work you've had done to the car and a little extra for some haggle room.
You can also go onto car websites like AutoTrader and eBay Motors and look up your car's make, model and year and see what cars are listed at or what auctions have sold. You can even watch a few auctions at eBay and see what those cars end up selling for.
Conclusion
If you've followed what I wrote here, you should now have a good idea of a price you should set for your vehicle along with a Word document listing basic information about your car and options. You can now decide if you indeed want to sell your car or maybe you'll decide to hold onto it for a little while.
When going for a new car or a new used car, you'll want to look at how much that car is going to cost you in terms of a monthly payment, insurance, fuel and repairs. See if it makes sense to sell your car now or not. Newer cars should have less in repairs and better gas mileage but having a monthly payment (loan) is probably more than what you're going to save.
If you plan on selling, then check out more articles on this website showing you more things you can do to prepare your car for selling.
Thanks for reading this post. If you have some comments or questions, please leave them below. Please also share this great article with other people that you know.